Select your Oligo from the favorie list in the drop-down menu.
Click "Add" to add the chosen oligo to your order.

You can enter the number of additional desired Oligos here, the order table will be extended with the denoted lines.

Please choose your delivery format, like tubes or plate format & orientation from the drop down menu.
If you need plates with empty wells, please use our upload entry with our excel order form.
Please proof the correct delivery format after upload.

dried = lyophilized
100 μM =100 pmol/μl
1 mM = 1 nmol/μl
For "Custom" dissolved oligos a query to Biolegio is necessary.
Choose Custom and enter the desired values in the popup.
On submit you need to enter a quote reference number for this specific order.

If you have not yet received one, continue your order normally. You will be prompted to send a query when submitting.

Please choose the desired Oligo Type from the drop-down menu if you need special specification, like RNA or NGS-Oligos.
Probes and probe types can be adjusted in the "Modification" popup menu
Oligos ≤ 80 nts will be synthesized with our High purity protocol
Oligos > 80 nts will be synthesized with our B-Pure protocol (higher costs will occur)

Please use a standard Excel Sheet.
Enter oligo names (max 25 characters) & sequence in separated columns.
Mark all oligos you want to add to your order and copy/paste the text into the popup.
Example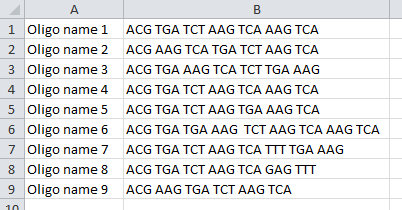 Important Remark:
Don't use
: ; , " \ / * ? | # Tabulator
.

If you fill out a second email address, the confirmation of an oligonucleotide order will not only be sent to the main email address, but to the second address as well.

Help for Payment method needs to be added here